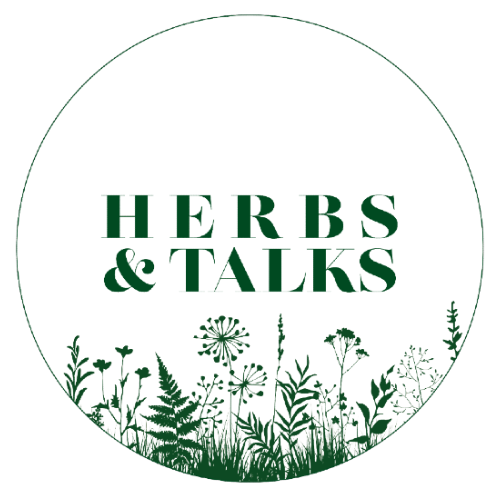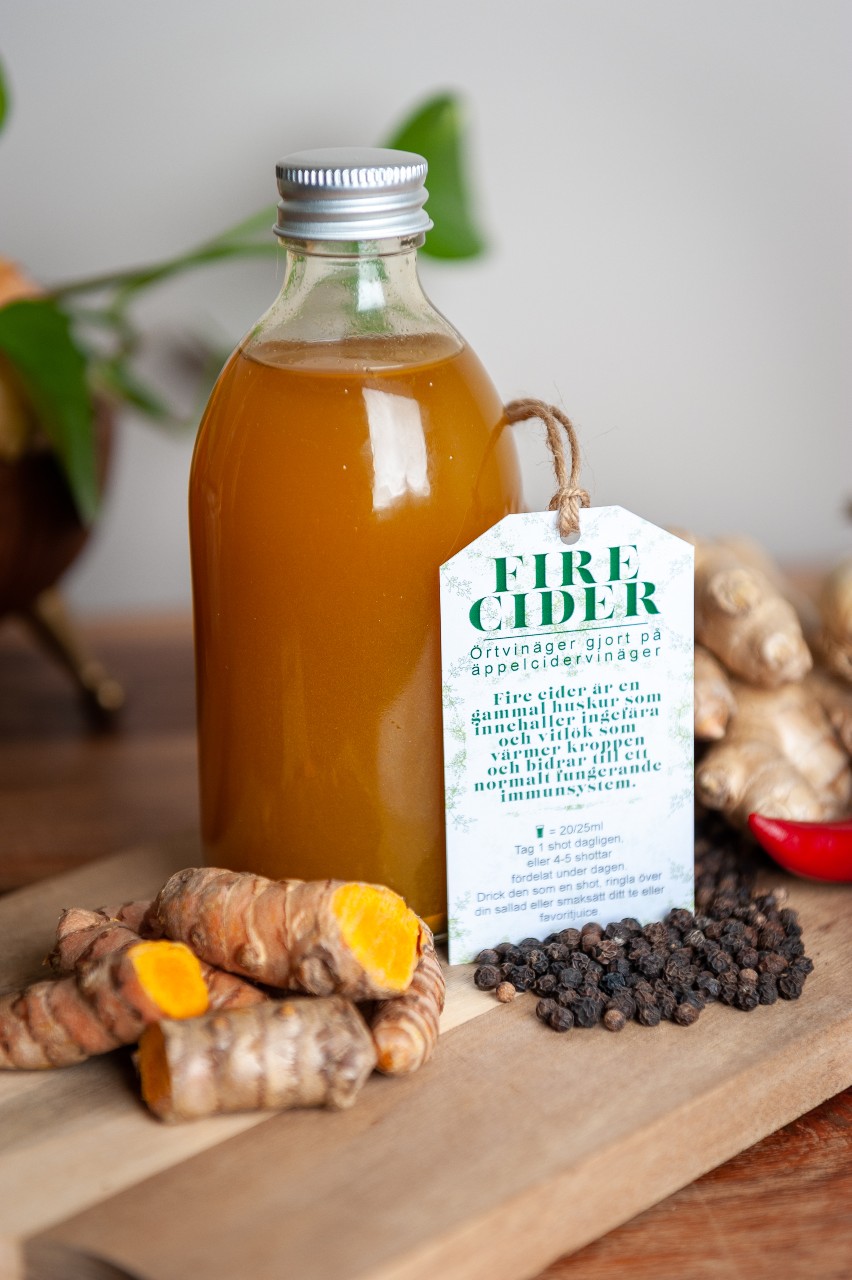 //HISTORY//
Fire Cider is an old home remedy based on apple cider vinegar (ACV). Fire Cider originated in the United States where Herbalist Rosemary Gladstar invented the name in the 70's. She made a mix of old home remedies of vinegar, herbs and spices, wrote about it in her books, taught about it in her courses and sold it at farmer's markets.
//USE//
Take 1 shot (20-25 ml) a day, or 4-5 shots distributed during the day.
Maybe add some raw honey to enhance the flavor, flavour soup or stew, drizzle over your salad or flavour your tea or favourite juice.
 //EFFECT//
ACV helps the digestive system.
Horseradish is number one when it comes to nasal congestion and headaches.
Ginger is a warming herb that helps digestion by improving blood circulation: it is also good for nausea and helps the body fight infections.
 Garlic has broad-spectrum antibacterial properties and is therefore an excellent companion to fight infections. Garlic also helps lower cholesterol through its warming properties.
 Onions have similar properties to garlic and are helpful for the treatment of colds and the flu.
 Red pepper, like horseradish, helps with nasal congestion through its warming properties. Contains capsaicin and vitamins that stimulate the immune system.
 Turmeric is a strong anti-inflammatory herb, and is activated by black pepper, it is a strong antioxidant and activates metabolism.
 Stinging nettle contains many vitamins, minerals and trace-minerals. Nettle nourishes the blood, is anti-inflammatory through its antioxidants and has diuretic qualities.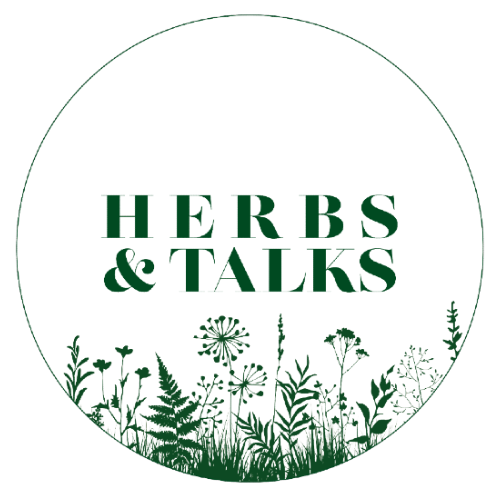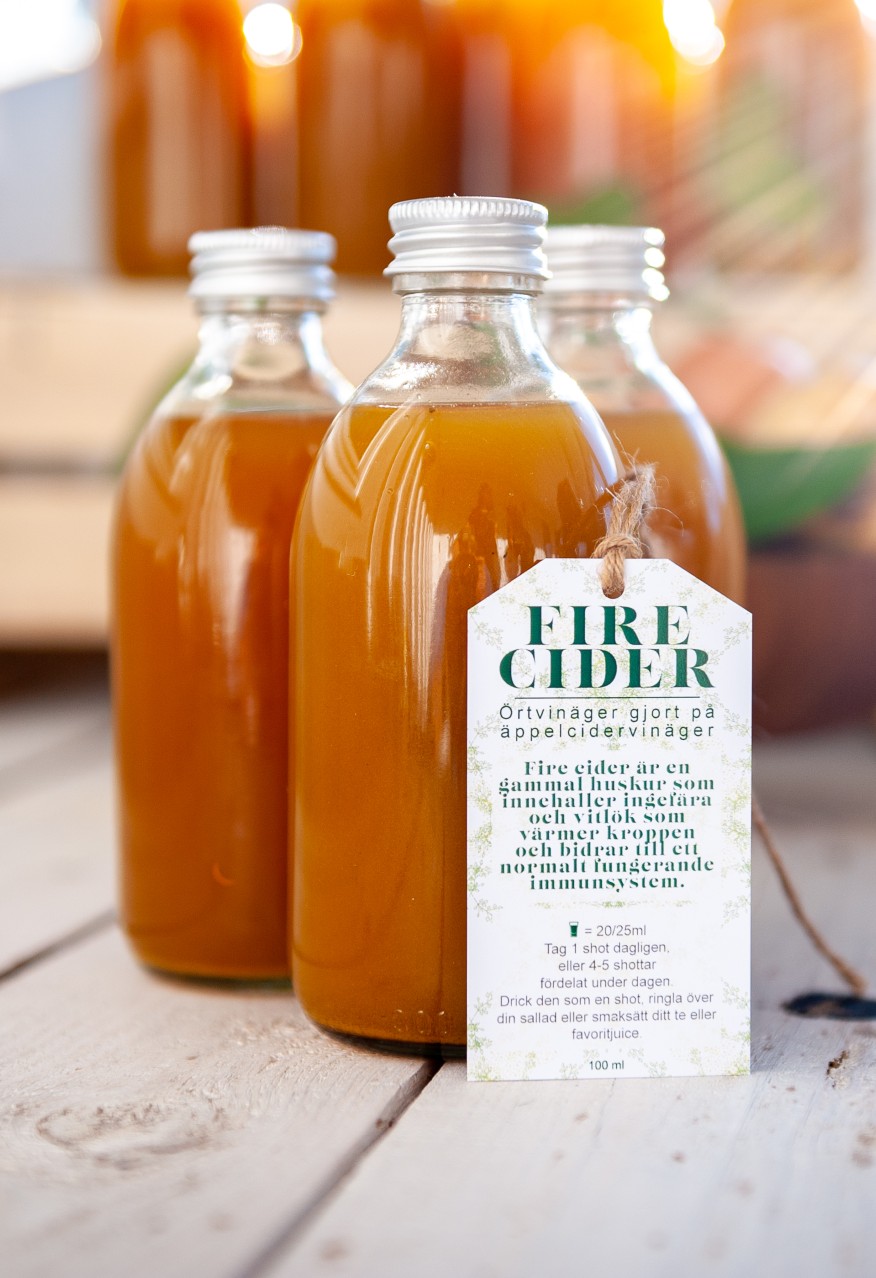 //HISTORIEN//
Fire Cider är en gammal huskur på bas av äppelcidervinäger (ACV). Fire Cider har sitt ursprung i USA där Herbalist Rosemary Gladstar uppfann namnet på 70-talet. Hon gjorde en blandning av gamla huskurer på vinäger, örter och kryddor, skrev om den i sina böcker, lärde ut om den på sina kurser samt sålde den på marknader.
 //ANVÄNDNING//
Tag 1 shot (20-25 ml) om dagen, eller 4-5 shottar fördelat under dagen.
Kanske lägg till lite rå honung för att öka smaken, smaksätt soppa eller gryta, ringla över din sallad eller smaksätt ditt te eller favoritjuice.
//VERKAN//
ACV hjälper matsmältningen
Pepparrot är nummer ett när det gäller nästäppa och huvudvärk.
Ingefära är en värmande ört som hjälper matsmältningen genom att förbättra blodcirkulationen: den är också bra mot illamående och hjälper kroppen att kämpa mot infektioner.
Vitlök har bredspektrum antibakteriella egenskaper och är därför en utmärkt kompis att kämpa mot infektioner. Vitlök hjälper också att sänka kolesterol genom sina värmande egenskaper.
Lök har liknande egenskaper som  vitlök och är hjälpsam till förkylning och influensa.
Spansk peppar hjälper likasom pepparrot vid nästäppa genom sina värmande egenskaper. Innehåller capsaicin och vitaminer som stimulerar immunsystemet.
Gurkmeja är en stark antiinflammatorisk ört, och aktiveras genom svartpeppar, den är en stark antioxidant och aktiverar metabolismen.
 Brännässla innehåller många vitaminer, mineraler och mineralämne. Nässla ger näring till blodet, är antiinflammatorisk genom sina antioxidanter och är urindrivande.